Trusted Pest Solutions in Cottonwood, California
Cottonwood, CA, is a frontier town with the look and feel of the old west. It's filled with 19th century NorCal history, and it's a great place to live, work, and play. As much as we like it here, so do local pest populations. That's right; pest infestations are a year-round threat that Cottonwood property owners should prepare for. Infestations can have many negative consequences on your property and for all those inside of it, which is why it's important to secure the proper pest protection. Your best source for quality pest control is the team at Redding Spray Service.
Since 1989, our family owned and operated business has been servicing homes and businesses throughout Shasta County and the surrounding areas. Our pest, weed, and lawn care treatments are thorough and customized to meet your needs. Our team of spray technicians is experienced in the most cutting-edge techniques of pest control in Cottonwood, CA and we use advanced material applications to deal with seasonal pests, giving you year-round protection you can trust. Reach out to us today for your complimentary service estimate.
Types of Pest Infestations in Cottonwood
From the minor - but troublesome nonetheless - pests such as, ants, wasps, spiders, cockroaches, termites, and fleas and ticks to the major ones like rodents, there's nothing that cannot survive in the healthy climate of Cottonwood!
And of course, bed bugs deserve a special mention, as these critters are small in size but not in stature. They can wreak havoc on your life, even turning it upside down. Any homeowner that has had trouble with bed bugs can attest to the fact that they can put life on hold. But they don't have to. Our foolproof pest control services in Cottonwood, CA are designed to rid your house of even the most stubborn pests, so you can reclaim your home. And our preventative services will ensure it stays so.
Pest Control in Cottonwood, CA You Can Count On
Pests can damage your property and more importantly your health too. Plus, they can leave your place unsanitary and unsuitable for human habitation, contaminate food, and spread deadly diseases.
Whether you're looking to enjoy a pest-free existence in your home or invite clients to a pleasant workspace that is free of annoying critters, you can count on Redding Spray. Our pest control in Cottonwood, CA can restore your sanity by eliminating the annoying nuisance of pests from your property. Read on to learn more about our pest control services for homes and commercial properties.
Home Pest Control in Cottonwood, CA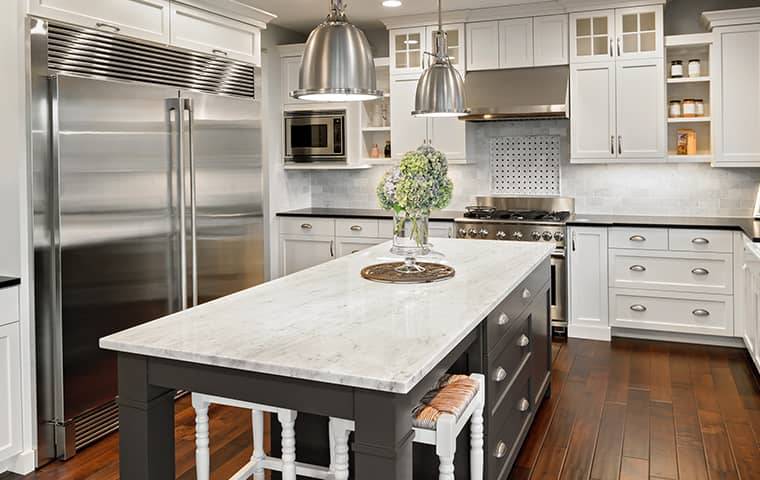 There are many historic homes here in Cottonwood, and pests have been a part of our history from the very beginning. Unfortunately, your home and your loved ones are vulnerable to the nightmare of a pest infestation. And that's why we offer comprehensive home pest solutions that Cottonwood homeowners like you can depend on all year long.
We've serviced over 400 local homes, bringing residents complete exterior and interior treatments that were customized to suit their house and pest pressures. Reach out to us today to discuss your residential pest, weed, and lawn control needs. No matter what challenges you're facing, you're not in it alone. Our team specializes in general pest control, lawn care, weed control, defensible space, rodent control, and bed bug control.
Commercial Pest Control in Cottonwood, CA
It's not easy running a business, but things get monumentally more difficult when pests enter the picture. Your Cottonwood business is susceptible to pest infestations, and the best way to protect your facility is with professional pest control solutions. Redding Spray Service provides dependable commercial pest solutions to over 40 businesses, covering a broad range of facilities, such as medical facilities, industrial and machinery facilities, office spaces, warehouses, schools, multi-family housing, and many others.
As the authority in our field, we use the latest technological advancements in pest, weed, and lawn care treatments to bring you the very best services possible. Get in touch with us today to learn more about our commercial pest solutions and how we can help keep your Cottonwood business free of pests.
Cottonwood's Guide to Quality Lawn Care
There are many reasons why maintaining a healthy lawn is essential to your property's overall function and well-being. Under the surface of the grass, there is an entire ecosystem working hard to function, so the soil needs to be healthy in order for vegetation to grow. Unfortunately, lawn pests can suck up all the nutrients and water sources meant to go to fuel the grass and other plant roots.
The best way to deal with lawn pests and maintain a healthy yard is to get help from the experts. Here at Redding Spray Service, we deal with a long list of common lawn pests, such as cutworms, armyworms, billbugs, white grubs, sod webworms, and lawn moths. We provide complete pest control and prevention services that promise to protect your lawn from infestations.
Our lawn care services entail a step-by-step process in which we're able to seasonally sustain the lawn all year long. Once we identify your lawn issues (such as the presence of pests, fungus, weeds, diseases, etc.), we'll come up with a personalized plan to restore your lawn to its healthiest state. Contact us today for all your lawn care and turf management services.
The Dangers Fleas & Ticks Bring to Cottonwood Homes
Spending time outdoors makes you vulnerable to a variety of different pests, including fleas and ticks. Both of these parasitic pests can transmit a variety of vector-borne illnesses into their hosts. When they latch onto you and feed on your blood, they may be exposing you (and your pets) to serious health conditions. Fleas and ticks transmit a variety of illnesses and bacterial diseases, including Lyme disease, malaria, ehrlichiosis, encephalitis, and many others.
Needless to say, it's important to do everything you can to avoid fleas and ticks from congregating around your Cottonwood home. They threaten us, our loved ones, and our pets, exposing us all to a long list of adverse health conditions. While you can take some preventative measures to reduce your exposure to fleas and ticks, the best thing you can do for your home is to get help from professionals well-versed in pest control in Cottonwood, CA. Call Redding Spray Service today to discuss your flea and tick control needs, and we'll get started right away.
Request Your Estimate
Complete the form below to request your no obligation estimate.