Reliable Pest Management In Cloverdale, CA
Located right on the banks of the Russian River, the small town of Cloverdale, CA is a beautiful place to call home. Our charming river town has easy access to nearby Alexander and Dry Creek Valleys, and we have a broad selection of wineries and Victorian homes to enjoy. However, it's hard to enjoy everything that Cloverdale has to offer when pest activity becomes a problem. Infestation poses a variety of risks to your property and everyone inside of it, and that's why we suggest getting help from the pros.
Redding Spray Service provides complete residential and commercial pest solutions to properties throughout Cloverdale and the surrounding areas. Since 1989, our family-owned and operated company has been servicing the local area with pest, weed, and lawn care treatments that last. We bring you the latest in technological advancements in pest, weed, and lawn care treatments, and we approach every job with honesty, integrity, and personal care. Reach out today for quality Sonoma County pest control you can rely on.
Home Pest Control In Cloverdale, CA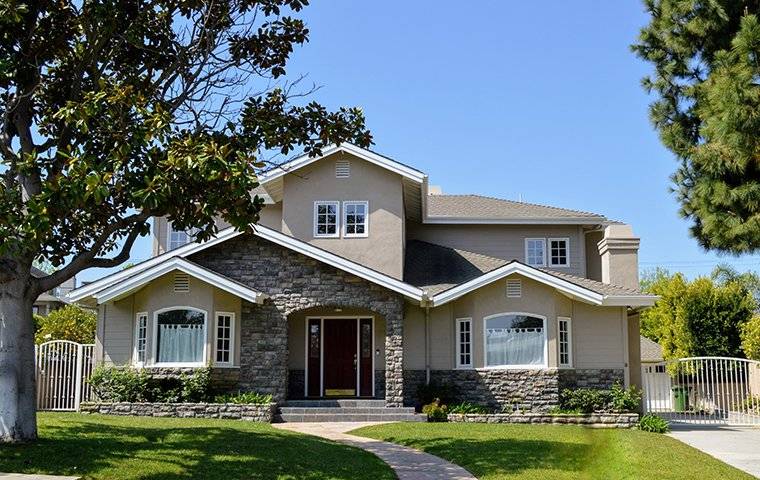 Here at Redding Spray Service, we offer affordable residential pest solutions to Cloverdale homeowners and their loved ones. We've serviced over 400 homes, providing year-round coverage from invaders such as ants, spiders, cockroaches, rodents, fleas, ticks, occasional invaders, bed bugs, lawn pests, broad leaves, and Bermuda and crabgrass.
Our process includes:
Inspection
Exterior - any signs of pest activity, conducive conditions, etc.

Interior - hot spots, entry points, and pest activity

Consult with homeowners and come up with a treatment plan

Solutions are customized to suit your home and your pest pressures
Service Visit
Free exterior spider-web removal

A proven combination of dusts, sprays, baits, granules, granular baits, and traps

Perimeter spray around foundation and eaves

Optional organic/green pest products

Interior treated as needed
Ongoing Service
Bi-monthly exterior treatments

Interior treatments as needed
We work hard to bring you customized treatments that are catered to meet the needs of your home. Whatever household pest pressure you're up against, we're here to face it with you. Call us today to get started.
Commercial Pest Control In Cloverdale, CA
If you want to protect your Cloverdale business from pest infestation, we're here to help. Redding Spray Service has worked with over 40 businesses in the area, providing year-round commercial pest solutions. Some of the facilities we've serviced include medical facilities, industrial and machinery facilities, office spaces, warehouses, schools, multi-family housing, and many others.
Along with our basic pest control solutions, we offer additional services for lawn care, weed control, defensible space, rodent control, and bed bug control. Our qualified team of spray technicians uses advanced material applications to deal with seasonal pests, and our IPM (Integrated Pest Management) strategies are guaranteed to bring you pest-free results you can count on. Reach out today to request your free estimate.
Rodent Control Tips For Cloverdale Homeowners
Imagine discovering rodent activity in your Cloverdale home. It's an upsetting occurrence that can quickly lead to a full-blown infestation. Rodent infestation compromises your health and safety, not to mention that of your family and loved ones. In order to prevent rodents from entering the building, you can take proactive measures.
Here are some rodent control tips for Cloverdale homeowners:
Eliminate accessible food sources.

Keep the house clean and tidy; reduce clutter.

Promptly wipe up spills and food residue.

Reduce excess moisture around the home.

Regularly take the garbage out and keep it in sealed trash bins.

Store food in tightly sealed, gnaw-proof containers.

Store wood away from the perimeter foundation.
To protect your home from rodent activity all year long, your most reliable source is to get help from the pros. Call the team at Redding Spray Service for comprehensive rodent control services that are effective and dependable. Call us today to schedule your initial inspection.
How You May Be Attracting Ants To Your Kitchen In Cloverdale
There are many daily habits we practice that can lead to pest activity. While it's never our intention to attract pests, it's a good idea to be aware of the things you may be doing to invite them in. Your kitchen is one of the most common places for ants because it offers the most food and water sources.
Here are just some of the ways in which you may be attracting ants to your kitchen in Cloverdale:
Ignoring messes, spills, crumbs, dirty dishes, and sugary residue that needs to be cleaned promptly

Poorly storing food sources and lack of cleanliness, including putting away pet food and water

Leaving sources of standing water around the property and forgetting to repair water leaks

Forgetting to take out the trash or store it properly in sealed, lidded bins
Changing these habits can help you prevent ants, but at the end of the day, the most effective way to deal with an ant problem is with ongoing services from the pest pros. Here at Redding Spray Service, we provide ant control and prevention services that give you lasting protection you can count on. Reach out today to learn more.
Why Bed Bug Problems Need A Professional Solution
It's easy to pick up bed bugs while you're traveling and carry them into your home. They'll spread around your house and bite while you sleep. You might think you can remove these pests by throwing your bedding materials away or vacuuming affected areas, but these pests hide anywhere people rest and in tiny crevices of your house. The only way to eliminate an infestation is with professional help.
The problem with bed bugs is they bite while you're sleeping. These bites are usually not hard enough to wake you, allowing them to return to their hiding spaces before you notice them. You'll probably only realize their presence when you wake up and see clusters or lines of tiny red welts on your skin.
Additionally, bed bugs can impact your mental health. Some of the health concerns regarding bed bugs include:
Sleep loss
Anxiety
Allergic reactions
Skin irritation
Since they're hard to eliminate, you'll need the professionals at Redding Spray Service to get rid of bed bugs. Our service technicians will examine your house to find signs and set up monitoring of your home for activity. We use bait and liquid treatments to eliminate infestations and can encase your mattresses.
After our initial service, we'll return twice to recheck and monitor your home, ensuring we got all bed bugs out of your house. Call us today if you think bed bugs are in your home and get started on our Cloverdale bed bug control services.
Five Mistakes Homeowners Make To Attract Cockroaches
Cockroaches don't cause damage when they invade homes but can spread potentially dangerous pathogens. These insects can survive in any environment and often live in unsanitary spaces. They can fit through tiny entry points in your exterior and spread pathogens on surfaces as they move around.
These creatures invade homes for food, water, and shelter, so anything that provides these necessities attracts them to your home. Knowing their habitats and attractants can help to prevent infestations, but homeowners make common mistakes that provide the perfect environment for these pests. Five common mistakes homeowners make that attract cockroaches include:
Leaving dirty dishes in the sink or on surfaces.
Keeping trash cans uncovered.
Ignoring spills or leaks.
Allowing cracks around doors, windows, and in your exterior.
Leaving pet food out in the open.
When cockroaches invade your Cloverdale home, you'll need assistance from the cockroach control experts at Redding Spray Service. Our technicians will inspect your house to find cockroaches and determine how they entered your home. We use the best tools and methods to control infestations and prevent future problems.
Cockroaches cause numerous problems when they invade Cloverdale homes. Give us a call if cockroaches are in your house.
Why Cloverdale Lawns Need Maintenance To Stay Beautiful
A beautiful lawn can greatly impact your home, improving its curb appeal and property value. A healthy lawn also provides a safe environment to play or relax outside and can prevent invasive pests from getting to your home.
There are several factors involved with quality lawn maintenance. Many homeowners only mow and avoid the more arduous or expensive tasks. However, proper lawn maintenance can provide many benefits, including:
Avoid weeds.
Prevent lawn-damaging pests.
Promote healthy grass.
Provide clean air.
In addition to mowing, quality lawn maintenance includes fertilization, irrigation, and weed control. Our technicians at Redding Spray Service provide the best lawn maintenance services for your yard. We'll identify problems and develop a customized plan for a healthy lawn.
A beautiful yard can increase property values and inspire pride in your home. Call us to discover how we can improve your lawn with our effective lawn care services in Cloverdale.
What Is Redding's Defensible Space Program For Bed Bug Control Homes?
Wildfires are an annual threat to California properties during the dry months. When rain is nonexistent, any spark can cause dry brush, grass, and weeds to light, putting your home in danger. At Redding Spray Service, we understand the threat of brush fires, and our defensible space program can help.
The goal of our program is to defend your property's perimeter. When other homeowners are worried about a nearby fire, you'll have the peace of mind that your home is protected. We use pre-emergent technology spray to clear dry brush, grass, and weed control 100 feet from your house, creating a buffer between your property and vulnerable areas.
We treat 100 feet from your home because that's the required distance set by the California Department of Forestry and Fire Protection. They've determined that distance is the best way to slow the progress of fire encroaching on your land.
We recommend spraying dry grass, tall grass, brush, and weeds twice yearly to protect your home from wildfires. Biannual spraying enables us to maintain your lawn and prevent growth from contributing to local wildfire problems. Call us to learn more about our defensible space program in Cloverdale.
Request Your Estimate
Complete the form below to request your no obligation estimate.