Homeowners seeking an attractive exterior lawn area often battle with weeds and fungi that extract nutrients from the soil and prevent the lawn from looking its best. Local residents should also remain aware of the various small pests that will invade lawns and create damage. You will often see these types of lawn pests on the grass, tree branches, plants, and varieties of garden vegetables or fruits.
Among the most common are flying pests called lawn moths (Nomophila noctuella). Lawn moths will rapidly reproduce and target the majority of turfgrass species, including creeping bentgrass and Kentucky bluegrass.
Many property owners in Redding try do-it-yourself products for limiting larvae that live within lawns in residential settings or natural moth repellents that simply result in further disappointment. An experienced Redding pest control professional like Redding Spray Service receives training regarding the moth varieties and the behavior of these unwanted pests. The professionals assess the existing conditions and develop customized treatment plans that keep the property looking great.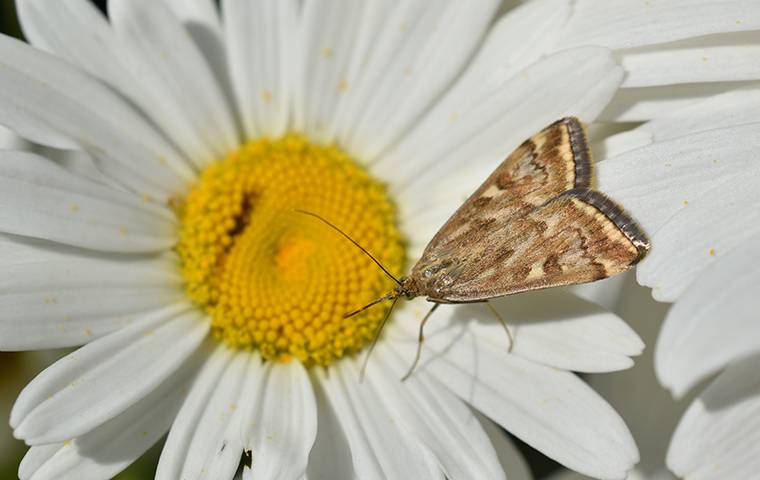 What Are Lawn Moths?
In their larval stage, lawn moths exist in a "worm-like" state and form underground tunnels. They may look yellow, green, or orange and generally appear only at night. Pouring soapy water into the grass will often cause larval moths to emerge. Lawn moths are most damaging to lawns as larvae.
As adults, lawn moths in Redding measure roughly 3/4 of an inch long with a slender body style and have a "snout-like" appendage. They appear either tan or grey with dark spots. When resting, lawn moths keep their wings near their body and will abruptly take flight when disturbed.
Is there a primary moth season in this part of California? During the cooler months, lawn moths will hide within the soil and later emerge in the spring.
How Much Damage Can Moths Cause To A Lawn?
What does moth damage on a lawn look like generally? The small tunnels created by moth larvae often have a white, web-like material that remains visible near the roots.
Lawn moths eat grass and other organic material, which often creates yellow or brown patches. Although considered primarily nuisance pests, lawn moths are destructive creatures that will cause costly damage to your yard. Keep in mind that these and other types of lawn pests commonly attract hungry scavengers that also may worsen the conditions. For example, crows and other birds, types of smaller rodents, and raccoons often will begin digging through the lawn in search of these pests.
Why Are Moths Flying Out Of My Lawn?
During the spring, adult lawn moths emerge from the ground. Lawn moths generally take flight when people or animals approach. These pests often target poorly maintained lawns, such as those lacking water.
Another attractant is thatch, which is a layer of organic material, including dead grass, that develops on the top of the lawn and offers these pests shelter. Ensuring your yard is properly maintained will help avoid an infestation of these pests.
How Do I Get Rid Of Lawn Moths?
Are you experiencing a moth invasion on your lawn? Rather than attempting do-it-yourself control options that often prove insufficient, consult with a local professional. Lawn care specialists use various products such as herbicides for controlling weeds, fertilizer in granular or liquid forms, and fungicides when lawns are retaining excess moisture.
For almost 40 years now, Redding Spray Service has provided superior lawn and home pest solutions for property owners throughout this region. Among the lawn pests we handle include armyworms, cutworms, grubs, and many more. Much of our success results from standing behind the quality of our services with a satisfaction guarantee and delivering superior customer service.
Contact our team today for a consultation. Remember to inquire about our ongoing lawn and pest protection plans that feature bi-monthly treatment visits from our professional technicians.