Trusted Pest Solutions In Anderson, California
Located just ten miles south of Redding, CA, the city of Anderson is beautiful and situated at the northern end of the Great Central Valley, along the winding Sacramento River. It's a great place to live, and pests are in total agreement. These intruders pose a year-round threat to Anderson home and business owners, and that's why it's important to secure the proper pest protection. For dependable pest, weed, and lawn control solutions that you trust, look no further than Redding Spray Service.
We are a family-owned and operated company defined by our integrity and consistency. Since 1989, we've provided comprehensive pest protection to homes and businesses throughout Shasta County and the surrounding areas. Our service-oriented company prioritizes honesty, efficiency, and personal care. Our valued customer base of loyal clients is what brings us to work every day, and we remain committed to meeting all of your pest, lawn, and weed control needs. Call today for a free estimate.
Home Pest Control In Anderson, CA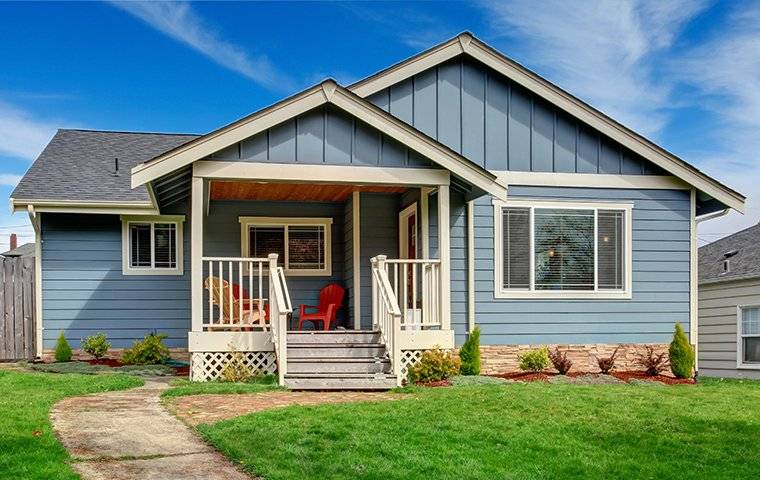 To protect your Anderson home from a pest infestation, ask us about our residential pest control services. We service over 400 local residences with reliable pest solutions. Our thorough process includes the following:
Inspection
Exterior – Any signs of pest activity, conducive conditions, etc.
Interior – Hot spots, entry points, and pest activity
Homeowner consultation and treatment plan development
Customized solutions to suit your home and pest pressures
Service Visit
Free exterior spider-web removal
Proven combination of dusts, sprays, baits, granules, granular baits, and traps
Perimeter spray around foundation and eaves
Optional organic/green pest products
Interior treatment as needed
Ongoing Service
Bi-monthly exterior treatments
Interior treatments as needed
Our qualified spray technicians work hard to bring you and your loved ones the very best pest protection in the area from start to finish. We use advanced material applications to deal with seasonal pests and offer additional services for lawn care, weed control, defensible space, rodent control, and bed bug control. Contact us to learn more.
Commercial Pest Control In Anderson, CA
The thought of your Anderson business breaking out in a pest infestation is disturbing, to say the least. If you want to prevent pest activity in your facility effectively, the best way is to call in pest control professionals.
Redding Spray Service offers comprehensive commercial pest control solutions that local business owners can count on. We've serviced over 40 businesses in the area, spanning a wide range of properties, such as medical facilities, industrial and machinery facilities, office spaces, warehouses, schools, multi-family housing, and many others. Reach out to us today to discuss your commercial pest control needs; we're here to help.
The Importance Of Quality Lawn Care In Anderson
Having a healthy yard is imperative to preventing a pest infestation on your Anderson property. The soil needs to be healthy in order for vegetation to grow, and if you want healthy soil, you need to make sure it gets its share of moisture and oxygen. You also need to maintain proper fertilization and irrigation practices to keep everything running smoothly and prevent pests from infesting.
There's no question about it: maintaining a yard is very difficult and time-consuming. That's why professional lawn care services are the best way to go. Redding Spray Service provides year-round lawn and turf management services that Anderson property owners can trust. We protect your lawn from common area invaders such as cutworms, armyworms, billbugs, white grubs, sod webworms, and lawn moths.
Our step-by-step process sustains lawn health throughout every season, providing you with ongoing services and a variety of comprehensive treatments. Some of our lawn services include micronutrient supplements, fertilizer, pest control, fungus control, and sprinkler recommendations. Whatever your lawn care needs, we've got your back. Call us today to learn more.
Do You Have Cockroaches In Your Anderson Home?
Cockroaches are one of the most unsanitary pests in the area. They crawl around in filth, travel through sewage, and feed on decaying matter, all the while picking up a slew of germs and pathogens. When they infest our property, they spread those pathogens all around the premises. They cause widespread contamination and expose us to a variety of health threats.
You may be wondering how to tell if you have any cockroaches in your home. It's important to be aware of any indications so that you can address the problem as soon as possible. If there are cockroaches in your home, you may spot egg casings and droppings in active areas, and you may detect a musky, unpleasant odor. Noticing these signs is usually indicative of a larger cockroach infestation.
In the end, the best way to protect your Anderson home from a cockroach infestation is to call in a team of experienced pest professionals. Here at Redding Spray Service, we offer complete cockroach control and prevention services that promise local homeowners ongoing protection from these unsanitary intruders. Contact us today to get started.
Are You Hearing Things In Your Roof And Ceiling At Night?
Do you find yourself awake at night, wondering what that incessant scratching/clawing/gnawing sound could possibly be? Are you starting to find droppings on the floor, on the counters, and in your cabinets? Are you noticing that food containers are ripped open? If so, you could be facing a rodent problem. All pest control services in Anderson, CA should include steps taken to remove and prevent vermin like rats and mice from entering and nesting in your home. When the weather starts to get colder in the fall, rodents tend to look for warm places to nest, and if they find somewhere comfortable, they'll breed there as well. That leads to an infestation that needs to be dealt with.
Our pest control services in Anderson, CA include steps for dealing with rodents so that you won't have to sit up at night in horror as you hear sounds that you cannot stop. We'll take a look at your home, identify the problem or problems that include potential ways in and out of your building, and take care of things from there. We'll do so safely, quickly, and effectively, and that alone should give you the peace of mind that you deserve. While our pest control services in Anderson, CA include rodents, the fact of the matter is that these creatures are hardly unique to this area. They are everywhere, and everyone needs to take preventative steps before it's too late.
Contact us today to learn more about how our pest control services in Anderson, CA can help you secure your home or business.
Request Your Estimate
Complete the form below to request your no obligation estimate.