Trusted Pest Solutions In Redding, California
The city of Redding, CA, is truly every outdoor lover's paradise. Cradled by Mount Shasta and Mount Lassen, we're surrounded by mountains, with many nature trails for hiking and biking. With the Sacramento River running through town, there's so much natural beauty to behold. Unfortunately, there are also a lot of local area pests to behold. Pest activity is a year-round threat for Redding property owners, and it's important to protect yourself from the dangers of infestations. For the best pest protection, you've come to the right place.
Redding Spray Service is here to address all of your pest control, weed control, and lawn care needs. Since 1989, our family owned and operated company has been offering affordable solutions for pest-free living. We service homes and businesses throughout Shasta County and the surrounding areas, using IPM (Integrated Pest Management) strategies to tackle pest infestations from the inside out. Whatever pest pressures you're facing, get in touch with us today; we're here to help.
Home Pest Control In Redding, CA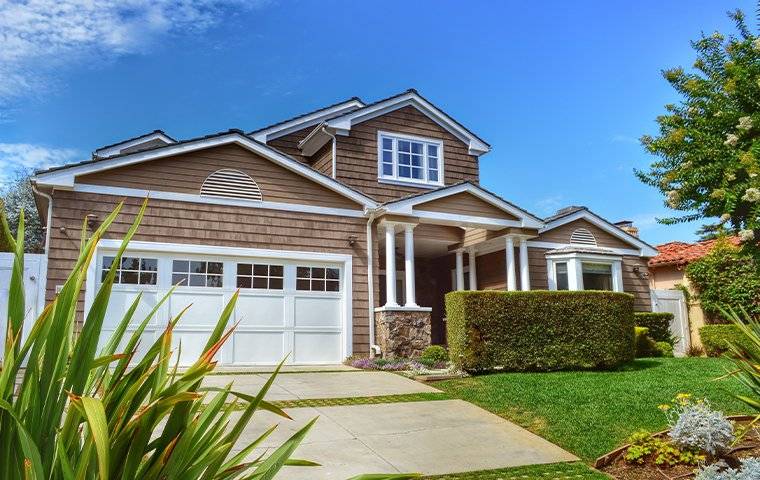 As a homeowner, it's up to you to protect your house from threats. Unfortunately, pests are an ongoing source of potential harm, and it's important to protect yourself. We've serviced over 400 residential properties with complete pest control solutions that homeowners can feel good about.
Our thorough process begins with a detailed inspection, in which we cover the following:
Exterior – Any signs of pest activity, conducive conditions, etc.
Interior – Hot spots, entry points, and pest activity
Homeowner consultation and treatment plan development
Customized solutions to suit your home and pest pressures
After the inspection, we'll work with you to develop the appropriate plan of action to treat your property. Our team of qualified spray technicians uses advanced material applications to deal with seasonal pests, and we offer bi-monthly follow-up services to meet your needs. Contact us to get your free home estimate.
Commercial Pest Control In Redding, CA
Redding Spray Service is proud to provide comprehensive commercial pest solutions to a long list of local businesses, including medical facilities, industrial and machinery facilities, office spaces, warehouses, schools, multi-family housing, and many others. After we determine the extent of the pest problem, we provide you with customized treatment options, such as the following:
Free exterior spider-web removal
Proven combination of dusts, sprays, baits, granules, granular baits, and traps
Perimeter spray around foundation and eaves
Optional organic/green pest products
Interior treat, as needed
We've serviced dozens of local businesses, providing quality pest, weed, and lawn care solutions our customers can count on. Your satisfaction is our number one priority, and we perform our service with integrity, efficiency, and personal care. Get in touch with us today to address all of your commercial pest control needs, and we'll get started right away.
Do You Need Weed Control For Your Redding Lawn?
It's tempting to brush off the presence of weeds in your lawn as not a huge problem, but if not managed, they can grow out of control and lead to some very negative results. Aesthetically speaking, weeds aren't pretty to look at, and they can certainly ruin your lawn or garden. They restrict plant growth by using up space, water, soil, and other nutrients.
Weeds expose your plants and crops to pathogens, diseases, and dangerous insects. They can block drainage pipes, causing harmful backup and clogging issues, and they can also interfere with equipment used for lawn care and cultivation. For these reasons, it's a good idea to secure weed control services for your Redding lawn.
Here at Redding Spray Service, our weed control solutions eradicate noxious weeds from your yard, leaving it healthy and thriving. We treat a long list of common area weeds, including broadleaf, star thistle, marestail, blackberry, cattail, willow, tree-of-heaven, scotch broom, stinkweed, stinkwort, Johnsongrass, crab grass, and more. Reach out to us today for year-round protection from weeds and the harmful effects they can have on your lawn.
What To Do About Spiders In Redding, CA
Your Redding home or business is a perfect place for spiders to nest. You can find them in moisture-rich areas where bugs (their food source) hang out, such as in the ground in wooded areas and under piles of debris. They prefer dark, quiet, hidden spaces that are hard to access. In order to prevent spiders from infesting your property, it's important to reduce your exposure to other insects because when you eliminate their food source, spiders have no reason to come around.
If you want to be proactive in your spider control efforts, there are some things you can do. Check for cracks and crevices around the structure, seal up potential entry points around the property, and install or inspect window screens and door sweeps. Maintain cleanliness and reduce clutter around the house, and properly store food and trash in airtight containers. Also, be sure to sweep away any cobwebs you find on the property.
When it comes to effective spider control solutions, your best bet is to go with regular services from pest professionals. Redding Spray Service offers extensive spider control and prevention solutions that provide year-round protection you can count on. Contact us today to discuss your spider control needs; we look forward to helping you.
Request Your Estimate
Complete the form below to request your no obligation estimate.