Trusted Pest Solutions In Palo Cedro, California
Located just eight miles east of Redding, the small town of Palo Cedro lies at the northern end of the Central Valley. It provides residents with a rural charm and a sense of community. Unfortunately, pests are part of that community too, and they're a year-round presence that local property owners should be prepared to face. The best way to guard your home or business against the dangers of a pest infestation is to reach out to a team of qualified pest professionals. Luckily, you've come to the right place.
Redding Spray Service is a family owned and operated company that is proud to provide comprehensive residential and commercial pest control solutions to properties throughout Shasta County and the surrounding areas. Since 1989, we've been taking care of the community's pest, weed, and lawn care needs, offering effective and efficient customized treatments. Reach out to us today for your free estimate.
Home Pest Control In Palo Cedro, CA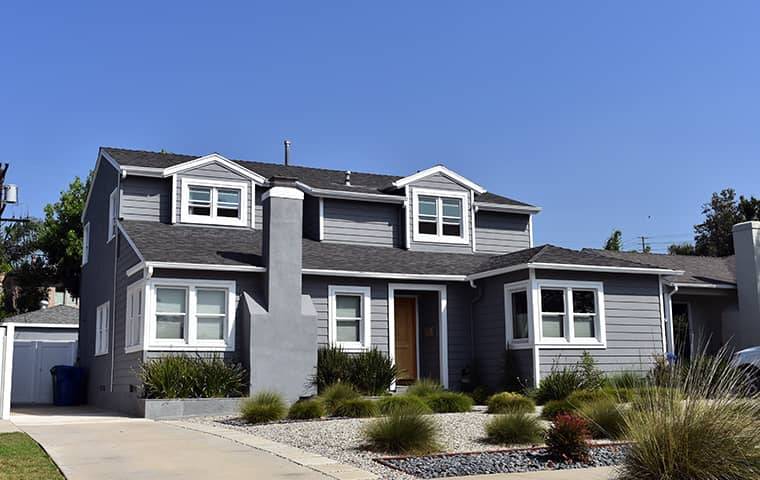 If you're looking to protect your Palo Cedro home from a household infestation, we highly recommend ongoing services from the pest professionals. We've services over 400 local homes with quality residential pest solutions that provide full coverage from common house pests, such as ants, spiders, cockroaches, rodents, fleas, ticks, occasional invaders, bed bugs, and lawn pests. Starting with a thorough inspection, we determine the appropriate treatments for the interior and exterior as needed.
Our goal is to work together to develop the best treatment plan for your specific pest problem. We cater our treatments to your property and your individual needs because your satisfaction is of the highest priority. Get in touch with Redding Spray Service today to learn more about our residential pest control services.
Commercial Pest Control In Palo Cedro, CA
As a local business owner, it's crucial to protect your facility from pest infestations. Not only are they detrimental to your reputation, but can cause serious problems for your employees and your customers. That's why we suggest you get professional help from the pest experts. Our commercial pest solutions give Palo Cedro business owners the protection they need to succeed.
We've serviced dozens of local businesses, covering a variety of properties like medical facilities, industrial and machinery facilities, office spaces, warehouses, schools, multi-family housing, and many others. From start to finish, our pest-free guarantee promises you thorough pest protection that you can rely on. We offer emergency and same-day services for your peace of mind because being there for you around the clock is important to us. Whatever pest problem your business is facing, give us a call, and we'll figure it out together.
How To Identify If Your Palo Cedro Home Is In Need Of Bed Bug Control
Here in Palo Cedro, bed bugs are a present concern that all property owners should be aware of. When it comes to bed bug activity, it can be hard to tell if you have an infestation. Why? Well, the nocturnal nature of these parasitic pests means that they only come out to feed at night. This nighttime feeding ritual makes it very difficult for us to catch them in the act. There are, however, some signs you can be on the lookout for.
Bed bugs leave behind bloodstains after they finish feeding. They also leave behind eggshell casings and excrement spots in hiding areas. Another telltale sign is waking up in the morning with a line of small, red bites. If you didn't have these bites when you went to sleep, but suddenly they're present in the morning, you likely have some bed bug issues to address.
If you think you may have a bed bug situation in your home or business, the best thing you can do is reach out to the professionals for help. Redding Spray Service is here to take care of all your bed bug control needs. The sooner we address the problem, the more effective we can be at preventing the infestation from spreading, so give us a call today, and we'll get started right away.
How To Keep Lawn Pests Away From Your Palo Cedro Property
If you want to keep your Palo Cedro lawn free of pest activity, it's important to maintain a healthy lawn. When your lawn is in good shape, there are fewer pest attractants around the property, which is why it's good to be proactive in your prevention efforts.
Here are some tips to help you reduce your exposure to lawn pests:
Eliminate weeds and moss because they block air and nutrients from getting to the soil.
Repair bare spots around the lawn to prevent them from spreading.
Plant pest-repelling plants such as basil, lavender, citronella, geranium, and others.
Keep your lawn well mowed and watered, maintaining proper drainage throughout the property.
When it comes to maintaining your lawn and protecting your property from pests, it can be overwhelming to deal with by yourself. That's why professional lawn care services are the best way to go. Redding Spray Service provides complete lawn care services that local property owners can rely on all year long. Get in touch with us today to learn more.
Request Your Estimate
Complete the form below to request your no obligation estimate.