You only need to see an earwig once to realize they should be far from your home. These scavengers have an unsightly (albeit unique) look that strikes a chord in most homeowners. Thankfully, these pests don't travel in large numbers, so you will not likely see many at a time. But what can you do to keep them away from your Redding home?
To keep these pests away from your property, you need the help of an earwig exterminator near you, and that's where we come in. Redding Spray provides the best pest control in Redding, including earwig control services. Read on how to learn all about these strange creatures, and give us a call when you're ready to say goodbye to earwigs!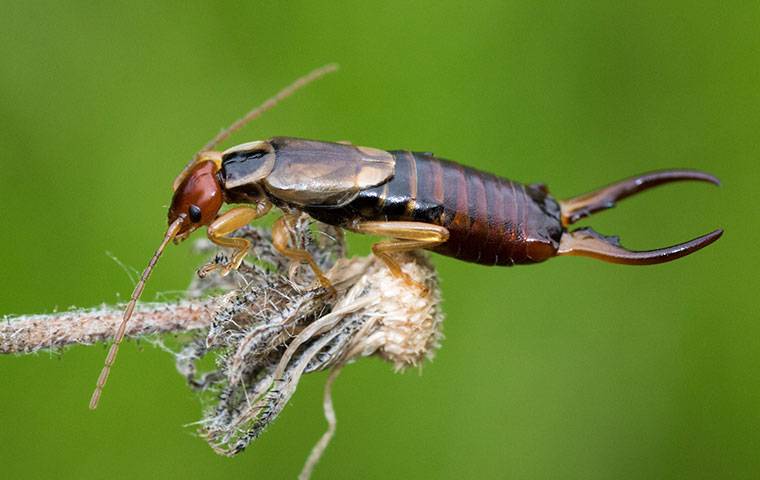 Earwigs Are A Very Creepy Looking Pest
Earwigs are classified as occasional invaders, meaning they rarely come inside homes. They also don't live in colonies like ants and are somewhat solitary, so they rarely appear in groups. Considering these factors, it's understandable that many folks don't recognize earwigs when they see them.
Here's a quick primer; earwigs are long and slender bugs. They grow to just over 1 inch long. Earwigs boast two sets of wings and a set of long pincers. They tend to have darkly colored bodies, which can vary among species. A distinct (and startling) feature of earwigs is their rapid movement.
If you're currently experiencing an earwig problem, the Redding Spray team can help. We'll inspect, find the source of your concerns, and develop a unique treatment plan that fits your needs. Call us today and get a free estimate.
Earwigs Are More Of A Nuisance Than A Danger
The good news is that earwigs, like many occasional invader bugs, aren't a threat to humans. They can, however, cause severe damage to plant life through feeding and spreading diseases. These bugs can devastate your garden in the rare case of an earwig infestation.
But Redding Spray can help protect your garden with exterior treatments that keep earwigs away. Following our first treatment, we'll follow up with bimonthly visits to apply additional treatments as needed. Our long-term care plans offer tremendous protection and can easily fit into any homeowner's schedule.
Simple Yet Effective Earwig Prevention Tips
As scavengers, earwigs are primarily looking for two things; food and water. With that in mind, you can take some simple steps to keep earwigs away from your home. Here are some simple prevention tips for invader bugs like earwigs:
Remove standing water from your property.
To keep earwigs out of your home, install door sweeps, seal gaps around your door, and control the humidity indoors.
Remove debris from your lawn and garden to eliminate hiding places. Remove dead plants from the garden so earwigs can't feed on them.
These are only a few ways to prevent earwigs, but when you partner with Redding Spray, you'll learn many more. We pride ourselves on educating our customers on the most effective pest control techniques for their homes. We want to help every homeowner in Redding lead a pest-free life.
The Most Effective Way To Keep Earwigs Away From Your Home
If you want to know how to control occasional invaders like earwigs, there is no secret; you need home pest control professionals on your side. Redding Spray has been helping homeowners like you reclaim your home from various pests since 1989. Through high-quality customer service and a desire to stay at the forefront of the industry, we've become industry leaders in the area. Whether you need earwig removal or other pest services, call us today, and we'll deliver the results you need.