Few pests cause the amount of fear that wasps do. Seeing just one of these pests from across the lawn is enough to drive many people back indoors. We believe that every property owner should be able to enjoy their outdoor spaces.
Here are some things to consider today to help you find freedom from the different types of wasps in Redding. For immediate help with an active nest on your property, take a moment and give our team a call. Redding Spray Service offers pest control in Redding to handle annoying and dangerous insects like wasps.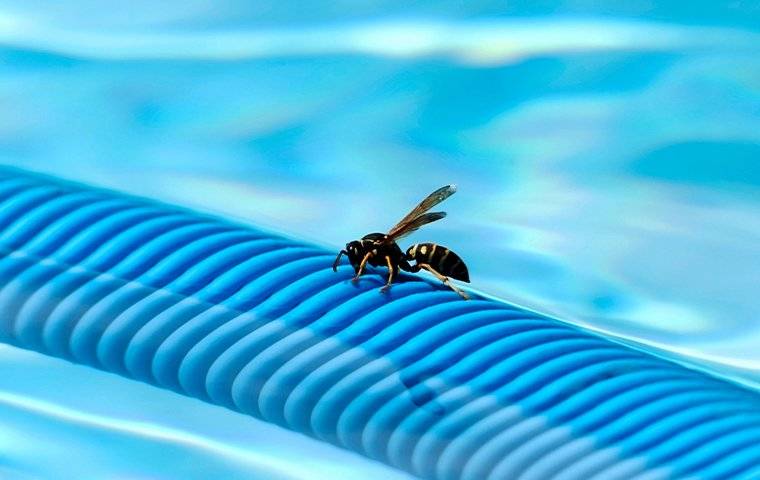 Wasp Identification Tips: Key Markers To Help You Identify Wasps
Not every wasp is the same. In our area alone, at least a half dozen species commonly infest local properties. Some kinds of wasps you should know how to identify include paper wasps, yellow jackets, and mud daubers.
Paper wasps come in a few different colors, including a combination of yellow, brown, black, and red. These pests build their nests from chewed-up pulp and have fairly painful stings.
Yellow jackets are yellow with black markings; they're more aggressive than paper wasps and build their nests in a similar way.
Finally, mud daubers are either black with yellow markings or an iridescent blue-black, metallic color and have a thin midsection. Mud daubers are not as aggressive as other common species as they live alone inside solitary mud tubes and do not have a queen to protect.
Health Risks Of Wasp Infestations: Allergies And Other Concerns
All wasps are capable of stinging; this does not mean that all wasp stings hurt the same. The tarantula hawk wasp has the most painful sting in California. Although a bit rarer than other local species, there is a chance that you will see this insect while out and about.
Other species, like the mud dauber, have a much less painful sting. With this in mind, wasps become more and more dangerous the more times they sting an individual. Several dozen stings usually require a trip to the hospital. The same is true for individuals who are allergic to venom, even if stung once.
Strategies For Wasp Prevention: Effective Tips And Tricks
You do not have to know how to identify all types of wasps in Redding to keep these pests away from your property. What we recommend is reducing factors that might draw these pests in. Here are some simple prevention tips to start with:
Pick up fruits, berries, and other produce that drops into your yard.
Clean up thoroughly after hosting outdoor gatherings.
Keep food and beverages covered when eating outdoors.
Make sure your trash cans have tight-fitting lids.
Often, wasp prevention is not enough to keep these pests away. Your best option is to keep an eye out for these stinging insects and call in our team the moment you notice them building a nest on your property.
Safe and Effective Wasp Removal: Contact Us Right Away!
If you want a great option to deal with bees and wasps locally, we have what you need at Redding Spray Service. Let our team visit your property to look for active nests. We will find out where these pests are hiding and offer fast solutions to give them the boot.
Reach you to our team at Redding Spray Service now to learn more about wasp control in Redding and say goodbye to the stinging insects on your property.