Have you started noticing your pet itching its ears or biting its fur more frequently? Or maybe you've been startled to find itchy bites all over your feet and ankles? If so, you may be dealing with a flea infestation. In this article, we'll go over the clear signs of fleas in your home and the best way to eliminate them from your property for good.
Give your property the complete pest protection it needs by partnering with the technicians from Redding Spray Service. With several decades of pest control experience under our belt, we've got what it takes to control and eliminate a wide variety of pest problems, including fleas. Contact us today for more details about our Redding pest control services.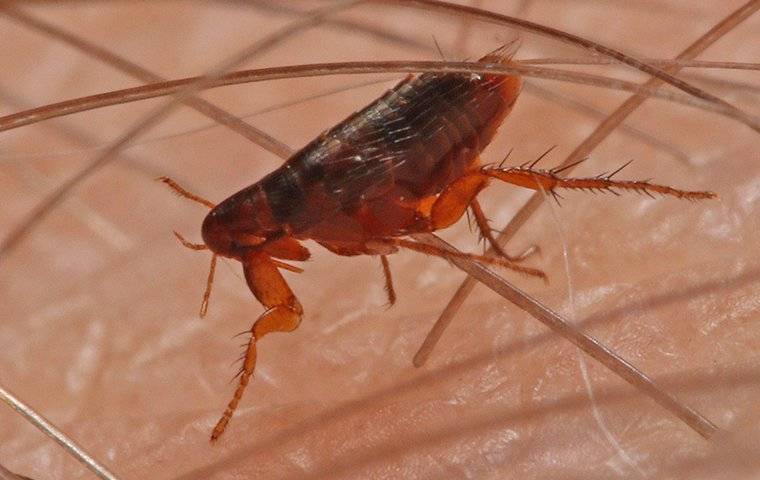 Identifying A Flea Infestation
Fleas are tiny pests that cause big problems. But how can you identify if these insects have taken over your Redding home? A few common flea infestation signs include:
Noticeable, often itchy flea bites on your skin, usually around the legs and feet
Flea dirt (excrement) in your pets' fur, which looks like dark specks of dirt
Excessive itching behaviors from your pets may indicate a flea problem in your home.
Your pets may also seem to be unusually restless due to the fleas making them uncomfortable.
If you notice any of the signs above, don't hesitate to reach out to the professionals at Redding Spray Service for help. We're ready to deal with fleas, so you don't have to.
How Fleas Can Be Harmful To Both People And Pets
Despite their small size, fleas can be quite a hassle for both you and your pets. Not only will these pests cover your skin with itchy bites, but they can also transmit a variety of harmful diseases. Some common flea diseases include tularemia, tungiasis, and cat-scratch disease. These irritating insects can also spread tapeworms to humans or animals that accidentally swallow an infected flea.
Don't allow fleas to invade your property and threaten your peace of mind. Instead, turn to Redding Spray Service for immediate assistance with any pest infestation. We're happy to deliver excellent solutions that target the source of your pest problems and prevent them from reoccurring in the future.
A Flea Infestation Can Be Extremely Difficult To Get Rid Of
One of the most challenging aspects of dealing with a flea problem is how difficult they are to get rid of. These common insects reproduce rapidly, resulting in a massive infestation within a few weeks or months. In addition, flea eggs may stay hidden in your carpets for months before hatching. This means even if you eliminate all the adult fleas you find on your pets or in your home, more fleas could spring up seemingly out of nowhere.
The best way to control and prevent flea infestations year-round is to invest in professional flea and tick control services from Redding Spray Service. Contact us today to get started!
The Best Way To Eliminate A Flea Infestation In Your Home
When it comes to managing a flea infestation, there's no better solution than investing in professional flea control services from a professional pest control provider like Redding Spray Service. We offer several options to ensure your Redding home remains free of all kinds of pests year-round.
Whether you're dealing with fleas, ticks, or other common pest problems, our technicians are here to help. We utilize the latest pest management strategies to provide excellent services with proven results. Get in touch with the professionals from Redding Spray Service today to schedule your first service visit or learn more about the solutions we offer.