Professional Pest Solutions for Centerville, CA
Centerville is a small community located east of Fresno. Known as a replacement for the town of Scottsburg that was destroyed during the great floods of 1861-62, Centerville was rebuilt on a bluff overlooking the site of the former town. That spirit of learning from our mistakes and ensuring that the same calamities don't happen again is exactly why Centerville residents should take pest control seriously. It's only by avoiding the problem in the first place that you can save yourself relocation costs -- or, in the case of pests, extermination costs. And if a pest problem does strike, it's a chance to learn how you can avoid an infestation in the future. Opt for pest control in Centerville, CA!
Home Pest Control in Centerville, CA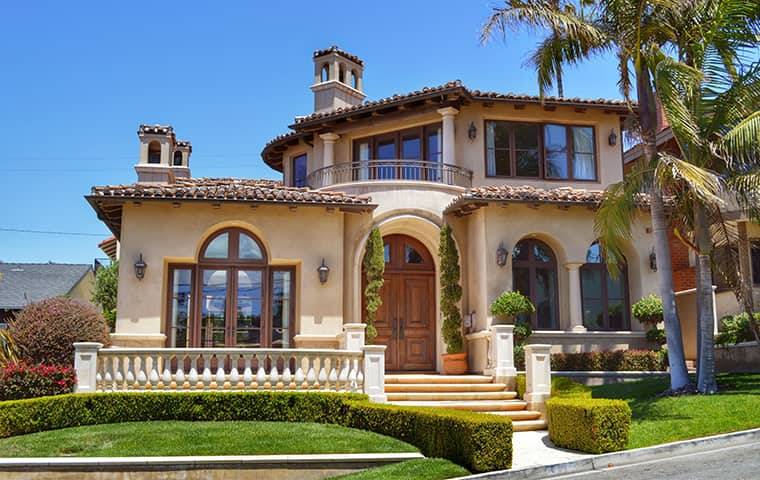 Your home is more than just the place you live, it's also one of the biggest investments you'll ever make. That's why protecting it from pest damage is so important. While there are outright destructive pests like termites to watch out for, there are also plenty of ways that everyday pests can damage your home or introduce other problems. In fact, any type of pest infestation can hamper your day-to-day life, destroying your peace of mind. And it can also prove to be harmful to your family's health in the long run.
That's why the best thing for Centerville homeowners to do is to seek help from the experts at Redding Spray Service. We can customize our services to your specific pest control needs including the nature and degree of infestation. Our staff includes highly trained and experienced pest professionals who deliver outstanding pest control services in Centerville, CA. They'll conduct a thorough inspection of the interior and exterior of your home to identify the nature of the problem as well as other critical factors such as entry points and conducive conditions to develop a tailored pest control plan.
We're confident we can eliminate existing infestations and defend against future ones because our pest control services in Centerville, CA feature the following:
Free Estimates: As soon as you contact us, we can give you an estimate over the phone of what kinds of services would be required based on the size of your property and whatever pest situation is noticeable.
Three Decades: Of experience, that is. We've been helping homeowners get rid of pests promptly and effectively since 1989.
Options: We don't just use one kind of solution because we know that different pest problems call for different methods. That also means you've got options, from non-chemical treatments to perimeter sprays that ward off invading species.
To protect your home from all kinds of invasive pests with the best pest control services in Centerville, CA, contact Redding Spray Service today.
Commercial Pest Control in Centerville, CA
So much time and energy go into running a business, but the smallest hiccup can end up costing lots of money and undoing a lot of progress. One of those problems is pest infestation but it is by no means a small hiccup as it can quickly aggravate, if left untreated. Even on commercial properties, pests can lead to larger dangers for employees, customers, and property values. That's why it's a smart investment to partner with local pest control experts who can protect you from infestations and promptly eliminate problems before they lead to larger issues.
At Redding Spray, we follow a customized approach for every business. A proper investigation of your premises helps us understand the nature and severity of the pest issue. Based on our findings, a customized pest control plan is developed to eradicate the problem at its source. We're just as thorough in our pest eradication and control solutions, with a combination of proven products such as sprays, granules, traps, and baits. To further fortify the pest control measures, we conduct a perimeter spray treatment around the foundation and eaves on the exterior. Don't want conventional products? We also offer green and organic options that are just as effective. No matter what type of pest control services in Centerville, CA you opt for, they include follow-up treatments to ensure your facility remains free of pests.
At Redding Spray Service, we break our commercial services into three simple and effective steps:
Inspection: To truly know the scope of any problem, we need to get to know your property. We'll do a walk-through where we ask questions and search every corner of your business for signs of pest activity.
Treatment: Once we discuss our findings, we'll come up with a treatment plan that's right for you and your business. We provide both interior and exterior treatments.
Follow-Up: We're not just a one-time service, we're a partner for as long as you're satisfied with our services. That's why we provide follow-up treatments as needed and we'll always check in periodically to make sure your business stays protected.
Keep your business thriving with pest control from Redding Spray Service.
How to Control the Weeds in your Centerville Garden
There's nothing quite as frustrating as weeds that overtake your lawn and garden that you spend so much time and effort on. Unfortunately, weeds grow like… well, weeds. This makes it hard to control them with traditional methods. That's why the best form of weed control comes from the lawn experts at Redding Spray Service. We provide the following kinds of weed control:
Elimination: We utilize safe and effective treatments to get rid of existing weeds in your lawn or soil beds.
Prevention: We don't just treat what's there, we treat what could grow later, too. Our preventative treatments keep weeds from simply growing right back.
Protection: To stop weeds in their tracks, we treat the soil with granular products that stop future seeds from growing into weeds.
For overall protection from weeds on your Centerville property, turn to Redding Spray Service.
What Keeps Spiders Away from Homes in Centerville?
Spiders are one of those pests that's always the sign of larger, uncontrolled pest populations. Spiders are only around to hunt insects, which means that if you're seeing spiders there is likely already an ant colony or some other kind of infestation somewhere on your property. The real way to keep spiders away is to protect against all kinds of invasive pests. To do that properly, you need the help of professionals.
Only trained experts know how to inspect for all the signs of an infestation that might be attracting spiders or other potentially dangerous pests. At Redding Spray service, we help protect properties from the most common species to invade Centerville homes and businesses. Our highly effective pest control services in Centerville, CA are designed to not only eliminate spiders but also shield your property from future infestations as a way to ensure that the problem doesn't come back later. For safety from spiders, insects, and other creepy pests, contact Redding Spray Service today.
What Smells Will Keep Centerville Bed Bugs Away?
Bed bugs are tiny parasites that infiltrate Centerville homes in search of people to feed off of at night. They usually live inside of upholstered furniture and dressers because these places provide them easy access to their food source. While it can be very easy to bring these bed bugs into your home, there are actually some scents that contain properties that are natural repellents.
Some of those smells include:
Lavender
Catnip
Lemon eucalyptus
Peppermint
Citronella
Garlic
Tea tree oil
Cinnamon
Pepper
Unfortunately, bed bug outbreaks are no match for DIY methods, so if one develops in your home, the best thing to do is bring in professional help. For more information on trusted bed bug control in Centerville, call Redding Spray Service today.
Everything Centerville Homeowners Need To Know About Rodent Infestations
Rodent infestations that include animals like rats and mice can be a big problem for Centerville homeowners. Some of the issues rodents cause that homeowners ought to know include:
Health risks are never far behind. Rodents are notorious for the health issues that they are associated with. They leave behind piles of tiny droppings as well as saliva and urine that can irritate allergies and asthma for certain people. These same byproducts can spread pathogens that cause tularemia, leptospirosis, and lymphocytic choriomeningitis.
Parasites can become an issue too. These pests also commonly carry parasites like mites, fleas, and ticks, which are a source of Lyme disease, anemia, and heartworm. They are dangerous for people and their pets.
They reproduce frequently. Rodent outbreaks are hard to control because mice can have eight litters each year, producing more than 40 pups each year, while rats reproduce approximately six times and can have upwards of 30.
Property damage can occur. Rodents are known for chewing constantly and building nests in places that can quickly become an issue inside of homes. When they take up shelter inside of walls, attics, and closets, rodents can ruin insulation and even cause house fires if they begin to nibble on electrical wiring.
For more information on rodent control in Centerville, call Redding Spray Service today.
How To Keep Ants Out Of Your Centerville Yard
When ants in Centerville end up in your yard, it's only a matter of time before they find their way inside of your home. Some of the types of ants that you might find around your yard include carpenter ants, pavement ants, fire ants, and odorous house ants. In order to deter these pests, try the following tips:
Create a tidy yard. A cluttered yard provides ants with ideal conditions, so eliminate brush, fallen branches, and leaf piles.
Fix leaks. Water is also greatly responsible for the attraction of ants, so fix leaking pipes, spigots, and gutters.
Be careful with trash. Meaty and sweet foods are responsible for luring many types of ants, so always store garbage properly in bins with tight lids. If you're hosting an outdoor party, be sure that you clean up spills and trash swiftly.
Care for wood. Carpenter ants seek out wood of all kinds, but primarily wood that is damaged. Repair any decks, porches, or wood siding and make sure that these areas are properly painted or varnished.
Treat cracks. Pavement ants in particular are lured to vulnerable spots in sidewalks, driveways, patios, and anywhere else that might involve cement. It's important to patch up any cracks and keep these areas in good condition.
Contact the pros. By working with a professional pest control company, you can receive routine barrier treatments that work to keep ants off of your yard and out of your home.
To learn more about effective ant control in Centerville, contact Redding Spray Service today.
Help! I Have Spiders In My Centerville Basement!
If you've found spiders in your Centerville basement, that's a very common issue that many homeowners deal with. Spiders of various species are usually attracted to the damp and humid conditions that basements provide them with as well as the seclusion and access to the pests they eat. Some of the spiders that you encounter may be harmless, while others can potentially be life-threatening, which is why when you come across spiders or their webs in your basement, the wisest thing to do is contact a pest control company.
At Redding Spray Service, we have been providing homeowners with total pest control since 1989. We take this approach because we know that comprehensive services are the most effective way to eliminate spiders and keep them from returning. Spiders are included in our residential services, which we perform on a bi-monthly basis. This process begins with a conversation about the spider activity that you've noticed as well as a full property evaluation to look for additional spiders as well as the pests and conditions that attract them. While we customize each plan we offer, we do typically include spider web removal, granular baits, sprays, and dusts. To further solidify your peace of mind, we guarantee these services.
For more information on our spider control solutions, please give us a call today.
Request Your Estimate
Complete the form below to request your no obligation estimate.